MxC® 200 Family - 48VDC-DC Converter Products
The MxC® 200 family consists of several monolithic, configurable, high-voltage MuxCapacitor® DC-DC converter integrated circuits targeted for use in both non-isolated and isolated, buck or boost converter applications.
Using patented conversion capacitive conversion and capacitive isolation technology, the MxC 200 ICs support seamless integration with existing low-voltage power solutions to provide highly efficient 12V to 57V DC-DC converter solutions for regulated or non-regulated PoL, isolated or non-isolated applications. Intelligent MuxCapacitor timing and control optimize power delivery efficiency from no-load to maximum power.
Production pricing, samples and demonstration boards are available upon request here.
Typical applications include:
Telecom Blades, Data Centers
PoE: Wireless Access Points Security
Cameras, VoIP Phones
Industrial Controllers, HVAC
IoT & IIoT Gateways
Note: Contact factory for die sales information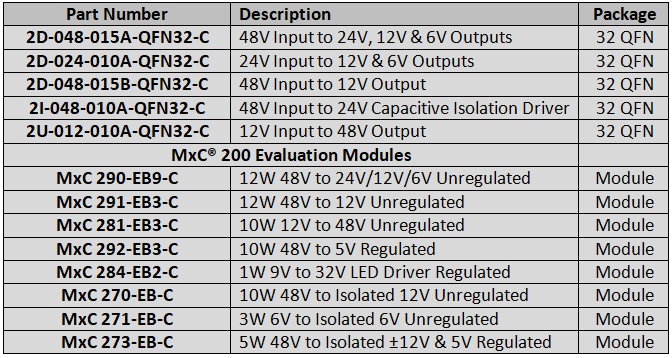 2D_048_15A Block Diagram
Downloadable documentation
Product Brief:
Data Sheets:
Eval Manuals:
Technical Documentation:
Click here for a full library.
Helix products enable high-efficiency voltage conversion in no-load (vampire), standby, and lightly loaded operating conditions.